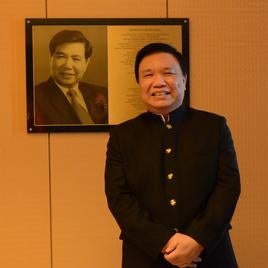 Winston Chung
Founding Member of the Winston Chung Global Energy Center and
Chairman & Founder, Thunder Sky Winston Battery Ltd.
Contact Information
Visiting Advisory Board
Winston Chung, inventor of the lithium iron phosphate battery, is the founder and chairman of Winston Global Energy Holding Ltd. The company invests, manufactures and markets energy storage solutions and lithium batteries. Winston also serves as director and chief scientist of the People's Republic of China's National 863 Lithium Battery Research and Development Center. As the major shareholder of a listed Company on the Hong Kong Stock Exchange, he leads an elite team expanding clean energy research and product development.
In 2011, Mr. Chung donated $10 million to the Bourns College of Engineering. This gift, along with subsequent donations, led to the college's newest building to be named Winston Chung Hall and the establishment of the Winston Chung Global Energy Center among other recognitions. His philantrophic contributions, couples with this clean energy inventions, result in generations of students and faculty researchers sharing their knowledge with global communities and lead to the development of new materials and energy sources.
A child prodigy, Winston invented the Traditional Chinese Medical (TCM) pulse meter at age 12. At 13, he began to study TCM and Pharmacology. His compilation of the Meridional Flow on Acupuncture and Moxibustion was published when he was 16. At 17, he invented a 3-in-1 television system. He invented the maintenance-free lead-acid battery (1982); the plastic lithium-ion rechargeable battery (1989); the waterborne adhesive lithium-ion rechargeable battery (1995); the rare earth element lithium yttrium rechargeable battery (2001) and the rare earth element lithium-sulfur rechargeable battery (2003), which is the most advanced battery technology in the world.
Winston enjoys music, art and painting. He was born on August 10th, 1958 in Guangdong Province, China.